Skip to Main Content
It looks like you're using Internet Explorer 11 or older. This website works best with modern browsers such as the latest versions of Chrome, Firefox, Safari, and Edge. If you continue with this browser, you may see unexpected results.
The Australian Guide to Legal Citation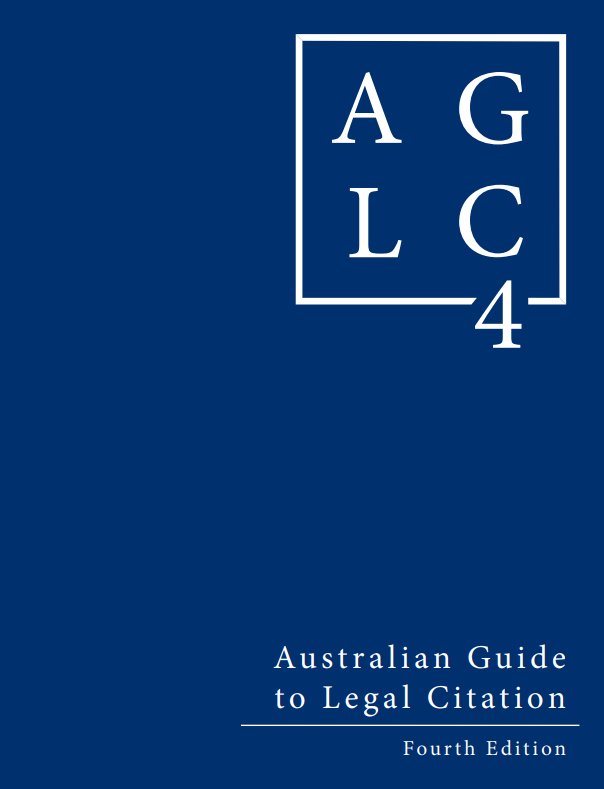 The Australian Guide to Legal Citation is a referencing style for legal citations that consists of:
Citations in the body of the page, using a superscript (raised) number

A list of footnotes at the bottom (foot) of each page, for all citations on that page

Possibly a bibliography (ask your instructor or publisher). If a bibliography is required it should be provided at the end of the paper and give details of each source mentioned in the text, as well as details of other sources consulted in preparing the paper
Access the official AGLC Guide (4th edition)
The Guide is produced by the Melbourne University Law Review Association. Access the full PDF of the AGLC4 guide via OneSearch. Find print copies in the Law Library High Demand collection at 340.148 2018 AUS.
Caution!
This UWA guide is NOT exhaustive. It simply lists examples for a few common reference types, focusing on Australian materials. Need more? Consult the full AGLC (4th edition) manual online.
Important! What to do if your source doesn't match any the available templates:
See page xi of the manual: "It may be helpful to analogise with existing rules, However, there is often no single correct way to cite a source and it will be a matter of judgment as to which rule to adhere to. As long as you are clear and consistent, you cannot go wrong." In other words, find the reference type that most closely matches your source and adapt it according to the general AGLC rules.
The importance of citing legal sources
Referencing or citing your sources is an important part of academic writing. It lets you:
acknowledge the ideas or words of others if you use them in your work

demonstrate that you've read relevant literature

provide authority for your arguments

avoid plagiarism
The UWA Law School requires students to use the Australian Guide to Legal Citation for formatting references.
Contact for support
Email your questions to our friendly library staff.
Students
HDR Students
UWA Staff
More contact options are available on the Library Contact us page.
CONTENT LICENCE

 Except for logos, Canva designs or where otherwise indicated, content in this guide is licensed under a Creative Commons Attribution-ShareAlike 4.0 International Licence.