Harvard is an 'author/date' system, so your in-text citation consists of author(s) and year of publication.

In-text citation of a book (the same format applies for a journal article):
Note that there is no punctuation between the author's surname and the year of publication.
If you quote directly from an author or paraphrase a specific idea or piece of information from a source, you need to include the page number of the quote or passage in your in-text citation.
For example:
It has been asserted that the primary "role of management is to combine, allocate and utilise the organisation's resources in a way that will assist the organisation to achieve its objectives" (Bray et. al. 2014, p. 129).
In-text citation of a website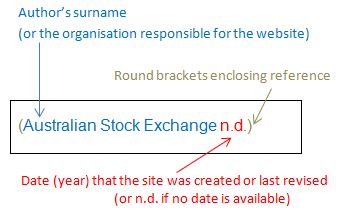 What if I want to cite some information that someone else has cited?
If you read an article or book which cites some information that you want to cite, always refer to the source where you found the information, not the original source. For example:
Sue reads an article by Alex Byrne in the Australian Library Journal in which he cites or refers to statements made by Tim O'Reilly on his website at http://www.oreillynet.com/pub/a/oreilly/tim/news/2005/09/30/what-is-web-20.html Sue wants to refer to O'Reilly's statement in her assignment.
Sue would acknowledge O'Reilly in her text but her reference is to the source where she saw the information. Sue might write as her in-text reference:
(O'Reilly, cited in Byrne 2008)
In her reference list Sue would write a reference for Byrne's article because that's where she sourced the information. The entry in her Reference List would be:
Byrne, A 2008, 'Web 2.0 strategies in libraries and information services', The Australian Library Journal, vol. 57 no. 4, pp. 365-376.
Two or more works cited at one point in the text
If two or more works by different authors or authoring bodies are cited at one point in the text, use a semi-colon to separate them:
(Larson 2000; Malinowski 1999)
The authors should be listed in alphabetical order.
Two or three authors or authoring bodies
When citing a work by two or three authors or authoring bodies, cite the names in the order in which they appear on the title page:
(Malinowski, Miller & Gupta 1995)
Four or more authors or authoring bodies
When citing a work by four or more authors, list only the name of the first author followed by the abbreviation et al. (meaning and others). Use this format for all in-text citations for the work, including the first appearance of that work:
(Bond et al. 1996)
Block quotations
If you are quoting a long piece of text (more than 30 words), the actual quote should be in slightly smaller font and indented from the left hand margin to distinguish it from the surrounding text. It can then be followed by an in-text citation. For example –
It was stated that:
If any similar qualitative research is to be undertaken in the future, then stringent controls should be put in place to ensure such statistical anomalies do not occur through lack of methodological rigor, particularly through corruption of data inadequately stored and processes (Mullane 2006, p. 66).